Transmission Tower World


Basic Info
Original Name(s)

第一閉塞
First Obstruction
電線
Electrical Line

Effects

EffectNone

Wallpapers/Puzzles

WP #227

Events

None

Notable NPCs

None

Other
Connecting Areas
BGM
Map ID

0535, 0544

Author
Transmission Tower World was a fairly small area that could be reached from the little house in the forest section of Chaotic Buildings. It was removed from the game in version 0.113.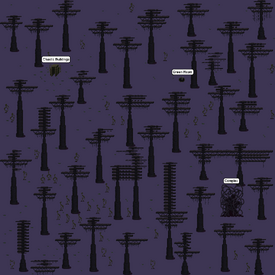 A tint of green is used here, along with heavy fog. Lots of huge and very old transmission towers fill the area. Going east will bring you to a manhole with a ladder that leads to a passage with blue lanters hanging from the ceiling. Going through it takes you to a cute room with a little green thing sitting and bouncing in place. You can rest under the kotatsu in the middle by interacting with it from the lower side.
By not going down the manhole and instead going south-east you'll see a huge building made of cables. It takes you to the Complex.
Nexus → Red Streetlight World → Gray Road → Grass World → Green Neon World → Construction Frame Building → Cog Maze → Forest Pier → Abandoned Factory → Arc de Pillar World → Mansion → Deserted Pier → Deserted Town → Chaotic Buildings → Transmission Tower World
Community content is available under
CC-BY-SA
unless otherwise noted.