Theatre World is an area accessible from Rock World and Square-Square World.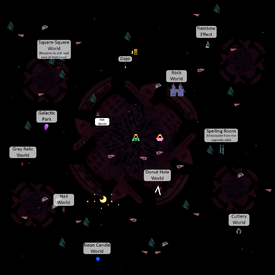 Features
[
]
The world is filled with props of trees or rocks that are either standing upright or are knocked down and prince and princess peep boards. The background music's tempo changes erratically.
Interacting with the rainbow found in this area will grant you the Rainbow effect.
There's an arch covered with vines that will take you to Cutlery World, as well as a black creature among a few tree props that will teleport you to Square-Square World, if you've visited that world already. The walking mannequin near the moon and stars will transport you to Nail World, and the purple cloud south of the black creature to Square-Square World will take you to the Lavender Temple (意識, Ishiki, Consciousness), where the screen will darken and the music will decrease in speed until finally you reach the Galactic Park. Southwest of the Galactic Park entrance is a creature who takes you to Gray Relic World upon interaction. The blue gumdrop at the south of the moon connects with Neon Candle World and interacting with the Swordswoman Dwarf or directly entering the tiny door with the Fairy or Child effect will take you to the Dojo. Somewhere north from the dwarf, one can find a cutout leading to Donut Hole World. There is a cardboard cutout castle that leads to Rock World, and finally, a rainbow-colored ladder will appear after messing around in the Spelling Room, which will take you to the pit with the eyeball creatures underneath the Spelling Room.
Trivia
[
]
This area used to be one of the main areas available from the Nexus.
In the same event tile as the Square-Square World Portal, if variable 16 is greater or equal to 99999, the creature will be replaced with a broken nail that teleports you to the Cog Maze, however it is impossible to get it since you cannot get the variable 16 to be equal or greater than 99999 without the use of debug, this nail could just be a placeholder.
Directions
[
]
Nexus → Rock World → Theatre World
Alternative route after having entered Theatre World once:
Gallery
[
]