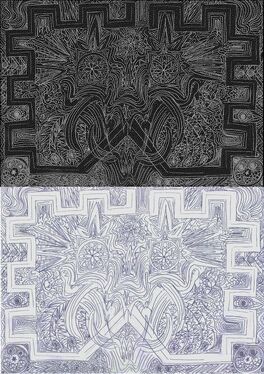 The Nexus (扉部屋, Tobirabeya, Door Room) is a single area located behind Urotsuki's dream bedroom door. It serves as the central hub of Urotsuki's dreams, eventually connecting to all of the different areas in the dream world through its initial locations.
The Nexus appears as an open, uncluttered looping area populated with many 'doors' to different dream worlds, almost all of which are actually strange objects resembling those from the world in question. While most Nexuses in Yume Nikki Fangames, and in the original, are silent circles of doors, Yume 2kki's Nexus features shifting ambient music in the background, and a scrolling floor of either a monochromatic tribal background or a dark blue field of squares.
By using the Eyeball Bomb effect while exploring Urotsuki's dream world, you can teleport back here without having to wake up.
At the moment, there are 17 external worlds accessible from the Nexus. Most areas cannot be reached directly from the Nexus, meaning that you will need to explore a lot in order to find all of the effects and discover some of the places hidden 'deeper' within the dream world.
Click the doors to find out more about the different areas.
Removed Nexus Doors
[
]
Trivia
[
]
The organization of the doors got changed in version 0.113e Patch 4, as eight new door slots got added.
Before version 0.113e Patch 4, the doors to Urotsuki's Room and Urotsuki's Dream Apartments used to change positions depending on the current value of variable 44.
Red Black World, Character world, Droplets World, Onyx Tile World , Theatre World and Gray Relic World used to be six of the many places that were accessible from the Nexus. The former three worlds were removed in newer versions while the latter three worlds aren't accessible from the Nexus anymore.
Before Version 0.114a Patch 2, Portrait Purgatory was accessed with the Invisible effect, as with that effect equipped, it replaced the door to Urotsuki's Room.
Before 0.116i, Gray Relic World was accessible from here through a moving creature visible with the Glasses.
There exists another Nexus in this game, The Second Nexus. Interestingly, unlike this one, it instead uses doors, more akin to the one found in the original Yume Nikki.