Tan Desert

The arrow and spiral are hints to the right path.
Basic Info
Original Name(s)

渦巻砂漠
Uzumaki sabaku
Spiral Desert

Effects

EffectNone

Wallpapers/Puzzles

WP #292

Events

None

Notable NPCs

None

Other
Connecting Areas

Lamp Passage
Evergreen Woods NoReturn➜LockedCondition🔐

BGM
Map ID

0632

Primary Author
Contributing Author(s)
Tan Desert is a world accessible from the Lamp Passage.
The Tan Desert is a large expanse of tan-colored sand and rocks scattered all over the place, over an abstract background spanning the outskirts. Though there are not much points of interests here, there is a portal to the Evergreen Woods, which can only be used upon solving a puzzle.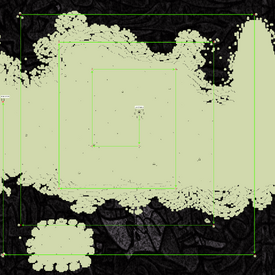 Solving the puzzle is done through following a spiral path similar to the pattern near the world's entrance, starting from the rock from the south, then cycling over each direction starting from the west afterwards, eventually leading to the portal.
Nexus → Geometry World → Intestines Maze → Flesh Paths World → Sea of Clouds → Lamp Passage → Tan Desert
Community content is available under
CC-BY-SA
unless otherwise noted.