Onyx Tile World


Basic Info
Original Name(s)

大理石世界
Dairiseki Sekai
Marble World

Effects

EffectNone

Wallpapers/Puzzles

WP #120

Events

None

Notable NPCs

None

Other
Connecting Areas

Purple World NoEntry⛔
Downfall Garden B NoReturn➜
Fused Faces World Chainsaw✨Locked🔒

Removed Connections
BGM
Map ID

0492

Author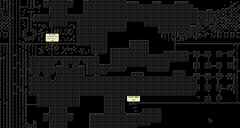 Onyx Tile World is a world accessible through the oil drum in Purple World.
Features
[
]
As its name suggests, the world is mainly filled with gray tiles, having little else in terms of atmosphere. Four chasers can be found in this area:
Due to this, it's recommended to visit this area to get Wallpaper #120, as all four chasers required to unlock this wallpaper can be found in the area.
Interacting with the pink slime-like creature ("to the Fairy Effect area" on the old map) turns the tiles red. This will cause a second pink slime-like creature to appear, on the center of the platform Urotsuki initially landed on, that will teleport Urotsuki to Downfall Garden B.
If this world has been accessed from Fused Faces World, you can find a white floating NPC by going north from the entrance, west at the first intersection and then south. Chainsawing it will make its eyes bleed and chainsawing it once more will create a hole in its face. Interacting with it in this form will take you to the Fused Faces World.
Directions
[
]
Nexus → Purple World → Onyx Tile World
Trivia
[
]
This area is a remake of Red Black World, which was removed a long time ago, dating to around 0.066.
It had its own warp beforehand, dating to around 0.093e's period.
It was edited quite often, regarding its changes between 0.093e, 0.097g and the modern versions of Yume 2kki. As stated, everything was cut off in 0.100c, replacing it with the Purple World.
Before version 0.100c, this area was accessible from The Nexus.
Gallery
[
]