Obsidian Plains


Basic Info
Original Name(s)

暗い荒野
Kurai kōya
Dark Wilderness

Effects

EffectNone

Wallpapers/Puzzles

None

Events

None

Notable NPCs

None

Other
Connecting Areas
BGM

yama-marimbaloop
bgm-l_m (Ethnic World)

Map ID

1298

Author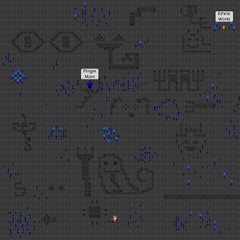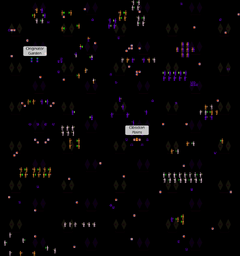 Obsidian Plains is an area accessible from Finger Candle World by interacting with the purple blocks in the Finger Maze.
Features
[
]
Obsidian Plains is a dark, large, desert-like area inhabited by blue, one-eyed creatures and blue plants. The Lantern effect can be equipped to increase the visibility while exploring. A variety of drawings can be found on the floor, like eyes, a sun and a ghost with a fork. Additionally, a large, black gateway can be found northeast from the entrance, which leads to the Originator Garden.
Trivia
[
]
Prior to 0.115d, there was an area called the Ethnic World (エスニック, Esunikku, Ethnic), which was a looping area full of smiley faces and creatures with one eye as a face holding shields and forks. A pair of suspicious-looking faces with diamonds as eyes can be seen in the background. A pair of blue pillars can be found by going southeast from the entrance. Going in between the pillars led to the Originator Garden.

The Ethnic World is an obvious reference to Yume Nikki's Shield Folk World, with folks of different colored humanoids holding items that are scattered around the world, the parallax background which features two differently colored twins like in Shield Folk World's parallax, and the animated tiles that play peculiar sounds when stepped on.
Directions
[
]
The Nexus → Geometry World → Digital Forest → Finger Candle World → Obsidian Plains
Gallery
[
]