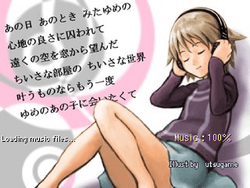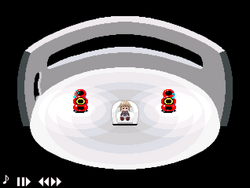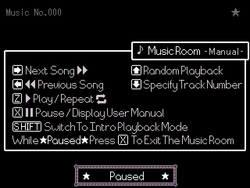 This is the old track listing page, which covers the older
music system in versions up to 0.104h. 
For the track list in current versions the game please
refer to the Soundtrack page!

This is a WIP page! Track listing for the completionist in YOU!
(Also for one of the endings)
If you have the time and energy feel free to contribute and modify the list, especially since it will change with future game versions.
This is a list of all the music available for playback in the Music Room, accessible from Urotsuki's Computer.
Each track is initially locked, but after hearing it at least once in the dream world it will become unlocked and listenable.
Upon changing to a track, the title will display along with a star, and in some cases a number/number value (eg: 1/4).
The number denotes multiple versions of the same song are used in different areas, which can be heard by repeatedly reloading the song, and the star denotes that you have collected all versions of the song.
As of 0.105a, you can access this old music room via PC.
001-050
[
]
051-100
[
]
101-150
[
]
151-200
[
]
201-250
[
]
251-257
[
]
Unnumbered Tracks
[
]
Sometimes when new tracks are released in an update, they are not added to the music room's track listing. This section is for music in new areas that has not yet been added to the in-game music menu.