Museum


Basic Info
Original Name(s)

博物館
Hakubutsukan

Effects

EffectNone

Wallpapers/Puzzles

WP #257

Events

None

Notable NPCs

None

Other
Connecting Areas

Dark Museum NoEntry⛔
Concrete World

Removed Connections
BGM
Map ID

0118

Author
The Museum is an area accessible through the fifth plant pot at the end of the far right corridor using the Glasses effect after turning on the switch next to the statue through the left doorway in the Dark Museum.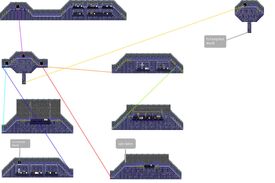 Features
[
]
It is an area with multiple rooms, blue floors and walls and oddly shaped doorways. There are a number of items on display, including a Buddha statue and a cross. Interacting with the Buddha statue with the Glasses effect equipped will unlock Wallpaper #257.
When you first enter this world, it is pitch-dark and the Lantern will not light it up even the tiniest bit. Leaving the room you first came from in the dark will take you to the central room, where you can enter another room and find a lightswitch on the wall which will turn the lights on (there are multiple lightswitches). If you flip the lightswitch again, it will give the world a blue tint.
By going down from the main area, leaving through the doorway will take you to the main area of Concrete World. Another exit in a room to the west will take you to an isolated area on top of one of the cheese buildings, with a constantly shifting NPC which resembles some of the drawings in Flying Fish World.
Directions
[
]
Nexus → Geometry World → Dark Museum → Museum
Trivia
[
]
In previous versions the Glasses effect could be obtained here by interacting with the glasses on the pedestal in one of the rooms.