Finger Candle World


Basic Info
Original Name(s)

指蝋燭
Yubi rōsoku
Finger candles

Effects

EffectNone

Wallpapers/Puzzles

None

Events

None

Notable NPCs

None

Other
Connecting Areas
BGM
Map ID

1262, 1264, 1266

Author
Finger Candle World is an area accessible from the Digital Forest by going through two digital fingers.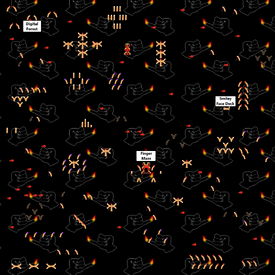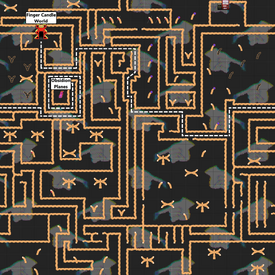 Features
[
]
Finger Candle World is a medium-sized scrolling world set on a strange brownish snake with candles, serving as a background. The area is filled with mutated, distorted and injured fingers and some are fused together to form weird shapes. Puddles of blood can be found scattered around the world, and the area is also decorated with strange orange structures with holes on them, where black fluid is leaking from them.
Southeast from the Digital Forest entrance, you will find a nailless finger with a short trail of pale circles, where interacting with the finger allows a one-way entrance to the Smiley Face DECK.
Continuing south from the nailless finger, you will find an orange structure and a doorway in it, in front of it there are white blobs with red spots on them, resembling eyeballs. Going through the doorway will take you to the Finger Maze.
Finger Maze
[
]
The Finger Maze (指迷路, Yubi meiro) is a medium-sized maze with multiple scattered fingers. Interacting with the moving stacked purple neon blocks will take you to a monochromatic passage known as Lonely Crying Path (寂れた叫び, Sabireta sakebi, Lonely Cry), which contains brown statues and a brown doorway, leading to the Obsidian Plains.
Trivia
[
]
Using RPG MAKER, you can see in the Lonely Crying Path map that theres something written which says "I don't wanna make people disappointed but I just make what I want.", this is impossible to see ingame even with the use of noclip since the text blends in with the black background.
Directions
[
]
The Nexus → Geometry World → Digital Forest → Finger Candle World
Gallery
[
]