The Cog Maze is an area accessible from the Construction Frame Building.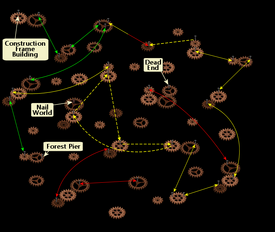 Features
The Cog Maze is a teleport maze consisting of floating gears of various sizes, serving as platforms. Rotating Phillips-head screws on each platform act as portals between other gears.
A slightly shorter screw on a platform to the northwest leads to the Construction Frame Building.
Another screw leads to a slightly darker area, with what appears to be a sign on the floor, which, upon interaction, shows a fullscreen image with the text「白昼夢」(Hakuchūmu, Daydream). This also unlocks a new book in the Library, containing the same image. Also found here is a bent screw, which unlocks Menu Theme #9.
Another shorter screw exists deeper inside the platform maze but currently teleports you to itself - effectively a dead end. A platform in the west constructed of three cogs with one screw in the middle contains a walking mannequin, which will take you to Nail World.
Directions
Trivia
Before version 0.113, the bent screw served as the initial connection to the Forest Pier, and thus, the start of a great adventure. Upon interaction, a small cutscene would show that the shortcut from Urotsuki's Dream Apartments to the Forest Pier was now open.
The "Daydream" image shown by the sign in dark area used to be located inside a building in the (now nonexistent) Cosmic World.
The Menu Theme found in this area used to be located in the Forest Pier before its removal.
Gallery