Arc de Pillar World


Basic Info
Original Name(s)

水辺
Mizube
Waterside

Effects

EffectNone

Wallpapers/Puzzles

None

Events

None

Notable NPCs

None

Other
Connecting Areas

Abandoned Factory
Mansion
Ruined Garden LockedCondition🔐

BGM
Map ID

0571

Primary Author
Contributing Author(s)
Arc de Pillar World was an area accessible from the Abandoned Factory. It was removed from the game in version 0.113.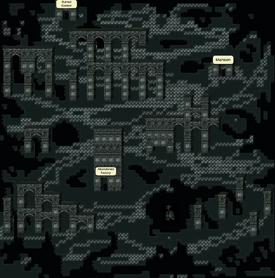 Arc de Pillar World is a rather small, confined area. Its watery surface is filled with many elaborate pillars and arches of stone. Near the entrance is a statue of a strange creature, floating into the void.
A couple of greenish-gray jellyfish-like NPCs can be found scattered around the area. Equipping either the Chainsaw or Wolf effects will cause them to run away from Urotsuki, while the Crossing effect will stop them as usual.
There is a small door between two short pillars to the north-east leading to the flooded ramparts of the Mansion. Northwest of this door is another door to Ruined Garden between an arc. If the Forest Pier hasn't been visited before, only an isolated area of the Ruined Garden will be accessible.
The English name stems from the pillars scattered throughout this world, which vaguely resemble twin pillars of the Arc de Triomphe in Paris, France.
The Bat effect couldn't be equipped in this place.
Nexus → Red Streetlight World → Gray Road → Grass World → Green Neon World → Construction Frame Building → Cog Maze → Forest Pier → Abandoned Factory → Arc de Pillar World
Community content is available under
CC-BY-SA
unless otherwise noted.